"Hürriyet Hakkımızdır Treni" started out for third time on its journey before the June 12 general elections to obtain responses to the question "What does Turkey Want?" as it visited 25 cities located in seven regions across Turkey. The entire journey encompassed 32days, 594 hours and covered 8,054 km along its route. The Hürriyet Train asked the Turkish people what things they wanted to be changed after the June 12 general elections and shared the data gathered with the public on a daily basis.

The Hürriyet Train transported Hürriyet writers as well as academics and other journalists who were aware of Turkey's problems to 25 cities situated on the railway network, stopping at Kayseri, Edirne, Erzincan, Balıkesir, Samsun, Manisa, Diyarbakır, Izmir, Tatvan, Uşak, Adana, Kars, among other locations.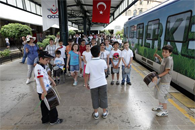 As part of the project, the Pınar Kido Children's Theater performed "Nasreddin İnadın Sonu" (Nasreddin – Result of Stubbornness) at every station stop while the Zil Zurna Percussion Group played railroad songs and conducted a body percussion workshop for children.
As the largest Turkish NGO in education, Türkiye Eğitim Gönüllüleri Vakfı (Education Volunteers Foundation of Turkey) (TEGV) conducted a "Workshop on Rights for Children" at every station stop to inform youth about their rights. The Doğal Afet Sigortaları Kurumu (Natural Disasters Insurances Authority) (DASK) also set up an earthquake simulation to raise awareness of this natural disaster to conduct training on this critical issue.
The "Zordur Kadın Olmak" (It's a Hard Job to be a Woman) photography exhibition, composed of photos of male celebrities as women, published in the 2011 New Year newspaper supplement, was held in every city to attract attention to women's issues together with the exhibition showing "Turkey's Scorecard on Equality of Women and Men." Training on domestic violence was given to city government officials and the activities of the Rightful Women Platform were presented as well.
The Turkish Football Federation participated in the event for the first time and presented the "Herkes İçin Futbol" (Football for Everybody) program. Doğan Haber Ajansı reported on the activities in the national and local media, and the program was the subject of a special broadcast by CNN Türk. Pegasus Airlines also supported the campaign by transporting visitors across the country.